Sign Up for Our Newsletter
If you are familiar with 401(k) plans, you have undoubtedly heard a lot about "open architecture" plans lately. While it has become popular for other plan providers to associate themselves with "open architecture", we have been designing and managing open architecture, fully fee transparent 401(k) plans for years. 
So what does open architecture mean and why is it a benefit to you? In a nutshell, as the diagram illustrates, it means hiring, with the benefit of our years of expertise, best of breed service providers for your specific needs for all three critical aspects of the typical 401(k) plan specifically: Plan administrator/Record Keeper, Custodian and investment product offerings.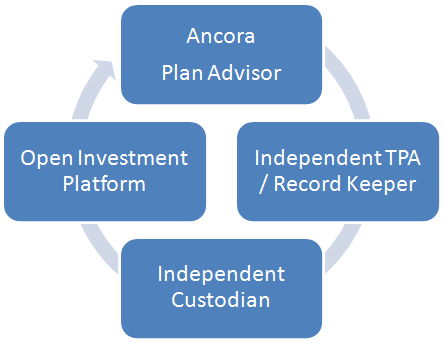 What this means to you as the plan sponsor is a plan that is 100% tailored to your needs and therefore provides the best opportunity for plan success. In addition, although we do not expect it to happen, in the future if any element of the plan is not living up to your satisfaction, it can simply be replaced without having to move the entire plan to another service provider. As a result, an open architecture plan with Ancora should be the last time you ever have to go through the ordeal of moving a 401(k) plan. With us as your partner you can rest assured that all elements of your 401(k) plan will be selected with best of breed criteria and monitored closely to maximize the full potential of your company 401(k) plan.
Source Companies provides Retirement Planning Services through its subsidiary Safeguard Securities, Inc. Safeguard Securities, Inc. is dual registrant broker dealer, member FINRA/SIPC, and an SEC Registered Investment Advisor. A more detailed description of the company, its management and practices can be found by clicking here for its Firm Brochure, Form ADV Part 2a.